My Little Pony: Mystery Post and Dream Castle
So this week has been a ridiculously good week in terms of ponies.  First of all, there was the excitement of the mystery post.
I work from home, and I haven't had a desk in the office for nearly two years, so I was a little surprised when Facilities emailed me to say there was a package for me on reception.  "Sarah Canfield" is not exactly the most common name in the world so they were pretty certain it was for me.  They phoned to check, and my married surname was on there too, so it had to be for me.  I gave them my address, and then quickly emailed all my friends to see whether they'd had a package too — was it work-related?  Friends quickly confirmed that no packages were being sent to them.  Then supportively added that it was probably a gift-wrapped P45 (the form you get when you and a company part ways).  My friends are adorable.
So, I worried for a day, and practically hung up on my manager when there was a knock at the door with the post.
This is what my mystery post contained: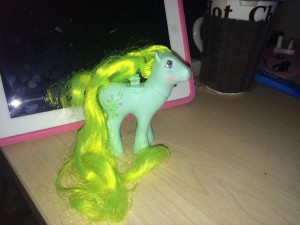 And once I knew it contained a pony, I was fairly sure who had sent it.  Once I checked the name of the pony, Morning Glory, I was certain.  It was my friend Nickerty-Split, who commented on my first post about ponies.  She is made of awesome.
Next up, a batch of bait ponies I'd been watching for a week came to an end.  And I got scooped in the last six seconds.  So I raged to Nic, and we talked about her must-have pony, Moonstone.  While looking on eBay for a suitable pony, I found a dream castle, which I paid less than £20 for, including post fees.  And this is it:
[wonderplugin_gallery id="1″]
(Photos from Gem's Pony Treasure, used with permission.)
Yes, it needs a bit of work, but I think it's a bargain.  Now I just have to wait for it to arrive.  My poor husband has been dealing with me randomly yelling "CASTLE!" ever since I won it.