My Little Pony: Car Boot Purchases
So, after a quick trip around Yorkshire, I am £2.50 worse off, but I do have new toys.
My first find was a naked Barbie for 50p.  Craig (husband) said I should've argued down to 20p, but I'm rubbish at stuff like that.  So he took charge after that.
Next up, we found a pink pony, not an official MLP, but a "fakie". (Why on earth are these things not referred to as My Little Phonies?  Seriously fandom, you missed a trick.)  That one was 10p, which Craig treated me to.  A few minutes later I found what I thought was a really good Phony, but turned out to be an original Gen 1 baby brother, for 20p.  He's called "Lucky the Stallion".  What is he, like the Fabio of Equestria?
Next up Craig located a slew of Barbies, which we were offered at £2 the lot, including clothes, which provided enough to clothe the naked Barbie I bought earlier (she's on the far left).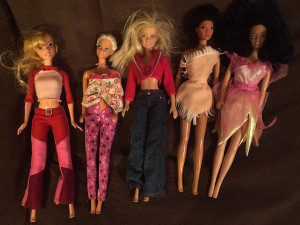 The haul includes Pocahontas, which I didn't even realise until we were in the car going home (as they were all naked, stacked on top of the clothes), and a darker Barbie, which is why Craig pointed her out.  The ultimate goal is to customise these dolls until they look like characters from the Talking Dead.  Also, by "darker", I mean like a teensy-tiny bit darker with black hair.  I'm thinking of dying her and Pocahontas until they're the right skin tones for purpose, but for the time being, it was a good start.  The middle doll has lovely hair.  A bit fluffy, but long and uncut and exactly the right colour for Flick.
The barbie with the buzzcut (we all had one, didn't we?) is getting re-rooted with pink hair, which I bought from MyLittleCustoms (I bought Fairy's Breath and CandyTuft, I'm going with the latter for Charlie).  As for the one on the far left, my first purchase, I'm not sure about her.  She might get customised into Eva, since she seems to have nice hair and I'm never short of red hair dye in the house.  Not actually sure that you can use people hair dye on dolls though, but it is only wash-in-wash-out stuff.  Failing that, she'll become Red, so either way, she's getting red hair.
The clothes are pretty ragged, but can be fixed quite easily.  Also, they'll be good for patterns, when I come to make custom clothes for them.  The top on the far left is wrecked, but if it wasn't pink and red, it's something Tam would wear.  Also in the bundle of dolls was an ugly thing that I don't even know what it is and a GI Joe, which I have no interest in, but he's wearing cargo pants, which will quickly be appropriated for Tam, who is all about the comfy clothes that can carry many weapons.
So, all in all, a successful trip.