Ten Things You Get When You Work With Carla and Sarah
Ten Things You Get When You Work With Carla and Sarah
1. Two for the price of one. One of us is English, the other American. One always lies. One tells the truth. We have an excel programme which will tell you how to figure out which is which. That's thanks to Sarah. Carla did a logic puzzle type thing by hand to figure it out. Carla won. (This paragraph could have been written by the liar.)
2. Diversity. Super important to us. (Neither of us lie about that.) (Or do we?) (No, we don't.) We're both queer, and Carla is biracial. Carla has bipolar disorder and hates when people use "crazy" and "insane" and the like as insults or description of things that are not actually mental illness. Sarah hates this too, and frequently hijacks work-related conversations on Lync to educate her co-workers. Carla has a lot of rage and is shouty. We write queer characters, characters of color, and characters who have mental illness. And some are queer characters of color with mental illness because intersectionality exists.
3. Wrestling references. You think we're joking?
Every single character surname is a reference to a pro wrestler. Some first names too. Yes, we know it's fake. (We prefer predetermined.) Pretty sure our ghost story with vampires is also fake. Sarah and her hubby convinced Carla to start watching wrestling because it was a soap opera with violence that had two really hot twin brothers, Jimmy and Jey Uso, wrestling as a tag team. Carla's not looked back since. And once she was into WWE, CZW was an easy step forward. After all…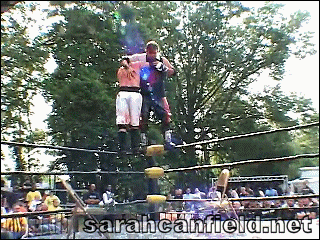 Violence. Lots and lots of violence.
4. Pets. Our pets are ridiculously adorable. We're also pretty sure they have Skype sessions while we're at work because they keep teaching each other tricks. Wall of death is now a thing in both our homes. Carla has a four-year-old Australian cattle dog/beagle mix she rescued about a year ago.
Sarah has two charming cats.
Also, we are well aware that you're looking at this thinking "Oh, a cat, like I haven't seen that before." You haven't. Not like this.
5. A story not set in New York or London. We are aware that they are the only places that the movies know exist, however, we're aware of other places. Like Yorkshire. We really like little seaside towns with a dark side and terrifying piers.
6. Magic and monsters. We like to write about werewolves and demons and vampires and witches, oh my, friendly and angry ghosts, and creepy abandoned places. Sarah brings the snarky dialog. Carla loves spooky description. There's fisticuffs and snogging and fucking garden gnomes. (Not, uh, literally fucking – Sarah is English and, as such, blushes at the mere mention of intimacy. The liar could be typing this.)
7. Hard work. We're both critical of our writing. We have an excellent group of early readers who are critical of our writing. We outline and re-outline, write and rewrite (and then talk wrestling before heading back to the story), and we're more than willing to tear a story entirely apart to make it better.
8. The ability to take criticism. ("I'm English and, as such, I crave disappointment." – Bill Bailey) Both of us work at law firms, and if that doesn't explain enough about us, nothing will. Plus Carla has a degree in writing and publishing, which involved A LOT of criticism. Sarah has a mother, which also involves A LOT of criticism. We love criticism. Bring it on.
9. Data analysis. I mean, it's got nothing to do with anything, but if you need some data analysing, Sarah will do it for fun. (Carla hates Excel. Don't even bother asking her for help.)
10. Our gratitude. We know we've been extremely privileged to have input from such excellent early readers, and if you choose us, we'll be lucky to receive your help as well. We appreciate all the mentors taking the time to read the entries for Pitch Wars. Many thanks to Brenda Drake and all the volunteers who make this happen. Best of luck to all the hopeful mentees.
Pitch Wars is a contest put on by Brenda Drake which matches writers with mentors. Mentors review submissions (query letter and first chapter to start) and choose a person (or writing team) to work with for a few months on a completed manuscript. Then mentees take their polished works and pitch to agents, who, we hope, will love what they read. We submitted THE TALKING DEAD, a YA supernatural mystery about murders, missing ghosts and the importance of warm socks.
You can find Carla on Twitter at carlamlee, and Sarah on Twitter at girl_canfield. Check out the bios of all the other Pitch War mentee hopefuls here.