Well, my resolution to blog more has already crashed and burned. In my defence, I spent half of February in Las Vegas, and the other half preparing for it. As for my March excuse… I got nothing.
Social
High: I went to Las Vegas and got married on my 10 year anniversary to Craig. Carla gave me away. Jake took many pictures. It was perfect.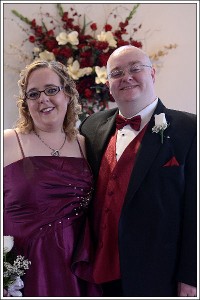 Many vicious games of Cards Against Humanity were played. Pretty jewellery was purchased from BicoLV – Carla and I have matching bracelets, and we will buy a new charm every time we achieve a goal (or something is really pretty and we need it right now).
Low: Carla mentioned saying goodbye, and that was hard. Another thing was just how busy Las Vegas is. Carla and I get over-socialised, and Las Vegas is a place where that happens quite easily. Next time we're renting a holiday house somewhere. Or an island. Or a lighthouse. It depends on Carla's mood and how much Enid Blyton she reads before booking.
Writing
High: Carla and I sent The Talking Dead to first readers. Craig, my husband(!), has given us feedback. We are waiting for further feedback, but Craig's is always very thorough and fair.
As for Monsters and Music, the sequel, parts of that are writing themselves and sticking twos up at the outline. Characters are taking charge as we get to know their voices and realise that they're not going to react as we outlined… oh god, do I sound a bit like a certain author who believes her characters are real and is quick to litigate over fanfic?
Also, as Carla mentioned, Intern promoted himself to Manager in our absence. I asked him if that meant we needed to pay him. He said no. So, yay, my manager doesn't need paying, but boo, my manager is a bit of an idiot.
Low: We've not had much time to work on Monsters and Music, and we need to review the outlines, based both on the feedback from Craig, and the small changes that have been made on M&M.
The Nox series is bothering me a lot at the moment, and I think it's bugging Carla too, because when I briefly mentioned it, she got that gleam in her eye, before quickly saying, "We're not working on that at the moment."
Reading
High: I've read a fair bit of chick lit over the holiday, and, by strange coincidence, they were written by Lynne Moriarty, who is the sister of Jaclyn Moriarty, whose books I gave to Carla as a gift. I'm also re-reading old favourites by Stephen King.
Low: I've not found anything un-put-down-able since I read the Gone series by Michael Grant. I want to find something that awesome again.
Wrestling
High: I got to watch the Elimination Chamber with Carla and Jake. I love the Elimination Chamber, it's my favourite PPV of the year (although nothing will touch the 2011 one). Watching wrestling with Carla is awesome.
I also saw a live event in Vegas. One of the matches pitched The Shield against Christian. Words cannot express how much I love Dean Ambrose and Christian. To see them in the ring together live was awesome. Sadly, I didn't get any good pictures, I was still getting used to the camera. I did get a pretty good shot of the Bella twins though.
Also, I got a quick video of Kofi kicking ass in a dance-off.
Low: Mostly Fandom. This is why we can't have nice things. Grow up, kids.